Our lead doctor has the largest experience in robotic surgery for gynecologic conditions west of the Mississippi. He has performed over 500 robotic hysterectomies. If you or a loved one has been diagnosed with a uterine condition that requires hysterectomy surgery, contact our office to learn more about the benefits of the da Vinci® robotic hysterectomy. 

About da Vinci Robotic Hysterectomy 
Approximately, more than 25 percent of American women will eventually need a hysterectomy. A hysterectomy operation is the second most common surgery for women after cesarean sections. A hysterectomy surgery (removal of the uterus) can cure a variety of problems that afflict the uterus and ovaries such as uterine or cervical cancer, ovarian cancer, endometriosis, fibroids, heavy non-menstrual bleeding and uterine prolapse.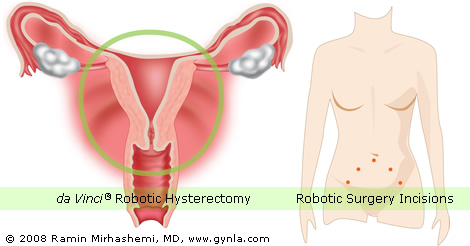 As a patient in our practice you are assured of the best approach for your hysterectomy surgery. When a hysterectomy procedure is recommended for a condition such as gynecologic cancers, fibroids, endometriosis, or other gynecological conditions, you need to know your options. 

If a hysterectomy operation is recommended, you may be a candidate for a robotic hysterectomy.  A da Vinci robotic hysterectomy is one of the most effective, least invasive surgical treatment options for a range of gynecologic conditions. A robotic hysterectomy procedure is performed with the da Vinci ® Robotic Surgical System. It allows surgeons to perform superior precision and control, with only a few small incisions.
Minimally invasive da Vinci robotic hysterectomy technology 
This robotic technology gives the surgeon better visualization and magnification in the operating field. This is vital especially when working with delicate and confined structures like the bladder. Robotic surgeons have a distinct advantage when performing a total laparoscopic hysterectomy involving adhesions from prior pelvic surgery or non-localized cancer, or an abdominal hysterectomy operation. 

The da Vinci robotic hysterectomy is a new minimally invasive technology that is widely being employed for hysterectomy surgery. The state-of-the-art da Vinci® Surgical System takes gynecological surgery to new heights by allowing your surgeon to convert an "open incision" hysterectomy to one with 3 or 4 small 8mm incisions. This novel surgical technique allows for incredibly precise movements, dexterity and control through minimally-invasive surgical openings and powerful 3D vision/magnification.
Benefits of da Vinci® Robotic Hysterectomy
da Vinci® robotic hysterectomy offers many improved benefits over traditional surgeries (vaginal, open or conventional laparoscopic), including:
Shorter hospital stay with fewer post-hysterectomy surgery complications
Less pain, blood loss & infection risk
Smaller incisions & less scarring
Faster recovery from hysterectomy and a quicker return to daily activities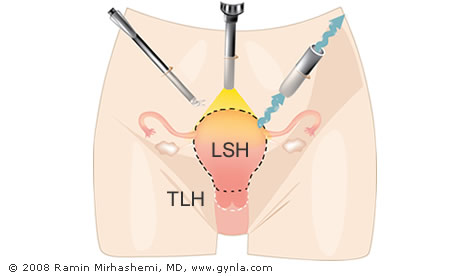 The robotic hysterectomy procedure offers many benefits in comparison to traditional surgical procedures particularly when performing more challenging procedures like robotic hysterectomy for gynecologic cancer. A robotic hysterectomy surgery provides a superior ability for dissection and removal of lymph nodes during cancer operations, when compared to traditional open or other minimally invasive approaches. The robotic hysterectomy cost pales in comparison to its innumerable benefits. 
Contact our office to learn more about the benefits of the da Vinci® robotic hysterectomy - (310) 375-8446.
Your doctor performs a robotic assisted hysterectomy and nodal dissection for stage I endometrial cancer. Click here to watch the video.