Approximately 12,000  to 14,000 new cases of cervical cancer will be diagnosed in the United States this year. Although the numbers are small in this country, this disease is a common cause of mortality in other parts of the world. Thanks to the screening pap test, the number of new cases of cervical cancer continues to decline in this country.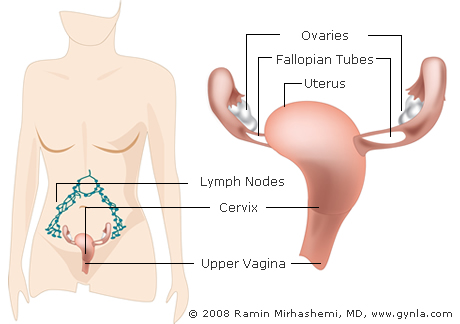 RISK FACTORS:
There are some known risk factors that are linked to the development of this cancer: 
Genital infection with Human papillomaviruses (HPVs).  This is the strongest link to cervical cancer. Infection with high risk HPV viruses have been found in over 99% of cervical cancers. These viruses are passed from partner to partner through sexual contact.
Lack of regular pap tests. All women should be screened for cervical cancer by a gynecologist starting at age 18 or when sexually active
Cigarette smoking. Women with an HPV infection who smoke cigarettes have a higher risk of cervical cancer than women with HPV infection who do not smoke.
SYMPTOMS: 
The precancerous phase of cervical cancer and some early cancer generally do not cause any symptoms. As the disease progresses from its early, precancerous stage, women may notice some of the following symptoms: 
Abnormal vaginal bleeding
Bleeding that occurs between regular menstrual periods
Bleeding after sexual intercourse, douching, or a pelvic exam
Menstrual periods that last longer and are heavier than before
Bleeding after menopause
Increased vaginal discharge
Pelvic pain
Pain during sexual intercourse
Abnormal bleeding during intercourse
DIAGNOSIS:
The diagnosis of cervical cancer is made by biopsy. 
Punch biopsy, where the doctor uses a sharp, hollow device to pinch off small samples of cervical tissue. Done in the office
Colposcopic directed biopsy, where the doctor uses a microscope to identify an abnormality in the cervix to biopsy. Done in the office
LEEP biopsy, where the doctor uses an electric wire loop to slice off a thin, round piece of tissue. Done in office
Cone biopsy, where the doctor removes a cone-shaped sample of tissue. Done in an operating room
TREATMENT:
Women with cervical cancer may be treated with surgery, radiation therapy, chemotherapy, radiation therapy and chemotherapy, or a combination of all three methods. Your doctor will cater your treatment accordingly and will involve you and your family in the decision making process through out the treatment. Your case will be individually discussed at the tumor board with highly qualified radiation therapist in order to personalize your treatment. In addition, his team of compassionate and helpful office personnel, nurses, and office manager will navigate your every step through the treatment process. 

If surgery is the treatment that you have chosen, your doctor can offer you the option of having your surgery done with the Da vinci Robotic System. This minimally invasive procedure utilizes small 5 to 8 mm incisions to perform the same operation as an open abdominal surgery with more precision, faster recovery time, less pain, and faster return to normal function. For further information please refer to the Da Vinci robotic hysterectomy section of the website.